4 years ago · 3 min. reading time · visibility ~10 ·
6 Quick Steps to Start Affiliate Marketing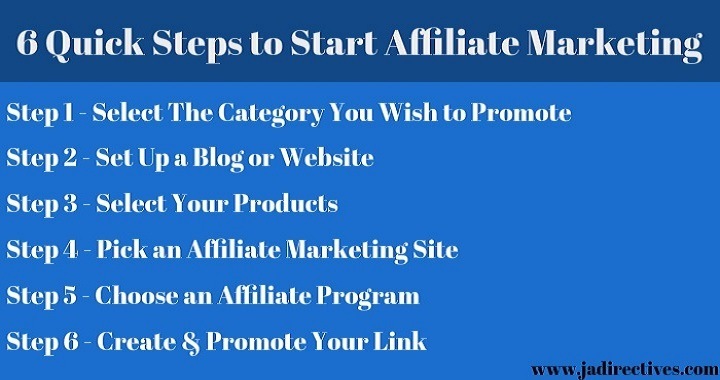 Are you looking for make money online through affiliate marketing, but don't know what are the quick steps to Start Affiliate Marketing? Where to Start Affiliate Marketing? If you answered yes to either (or both) of these questions, you are in the right place.

What is Affiliate Marketing?
The first, and perhaps most well-known online money making strategy is called affiliate marketing. It is the most Quick & Easy method of making money online.   Affiliate marketing is one of the most admired Internet business ideas. Affiliate marketing is one of the most top talked topics among all other Internet business ideas. Affiliate Marketing involves selling other people's products or services on your website, social media page, YouTube account, and other Internet-based pages, thereby earning a commission on each sale.
Of course, this money making option requires that you have (or create) an Internet site or page and that site or page caters to the same market as the merchant or advertiser that you want to highlight and you should also have enough visitors. But once you have that, you could make some serious cash.
What Are the Advantages of Affiliate Marketing for Beginners?
If you don't have any experience to build and run an Internet business, initially affiliate marketing might be your preferred path.
The major advantage is that you don't need to create your own products or offer your own services to your customers. Rather you can use other brands to promote your own business. You can create residual income stream right from the very beginning of your online business.
Even you can make money while you are as sleep, by promoting your desired affiliate products on your own blog, in the form of videos, social media or whatever medium is good for you.
However, don't misjudge affiliate marketing. It's not that much easy to sell a product and make money online. You have to work hard to earn that money by selling products to your targeted customers.
If you really want to successful with affiliate marketing or products, you should have a transparent idea of what kind of product you'll be selling and to whom you're selling.
Knowing your targeted customers is the best solution. Because it gives you insights of what kind of problem is facing by a customer and you are there at the right time to solve your customer's problem. Though it is quite difficult to get these insights, but if you have the passion you will get it.
How do Affiliate Marketers make Profits?
The majority of the aspiring entrepreneurs who try online business ideas which are built on affiliate marketing failed. The main reason they failed because they don't know what they're actually doing. Firstly, they have no idea about their target audience. Secondly, they have affiliated with wrong products. Finally, a very common reason they don't have enough traffic to make sales.
The great thing about affiliate marketing is that you don't need to create a new product whenever you try something new.
There are two ways you can choose your affiliate products:
Choosing an affiliate product with your similar niche and
Selecting some affiliate products from an absolutely different niche.
If you get master skills for copy-writing and selling, (or you can outsource copywriters) and at the same time you have enough amounts of visitors on your business site, then affiliate marketing is one of the most profitable online business ideas as always.
The successful affiliate marketers usually have high presentable skills for their contents. They have made well-structured sales funnels and blogs, through which they help the audience to decide whether they buy the affiliate product or not.
Most of the affiliate marketers drive traffic to the sales funnels by using advertisements in the Google, Twitter and Facebook through paid Ads and also by doing some search engine optimization to ensure that their sites can be found on search engines. If the idea of affiliate marketing interests you, follow the below steps:

6 Quick Steps to Start Affiliate Marketing
Step 1 - Select The Category You Wish to Promote:  
To start affiliate marketing it's pretty easy to do; if you already have an existing site or page, as it is going to be one that is relevant to your subject or topic. For instance, if you currently own and operate a website that is somehow related to money or financial issues, you could increase  your income  base as an affiliate marketer  (in which you would be called  the publisher)  by promoting  and  selling  products  and programs  related to your  topic.
However, if you don't have a page or site set up currently, what types of products or services are you interested in? What are some things that you are knowledgeable about and can discuss intelligently with your readers? Select a category that you love or could add value to and the rest of the process will be much easier for you. Read more at Steps to Start Affiliate Marketing
(This post was originally published on www.jadirectives.com . Republished here for the beneficial of people who is interested to Affiliate Marketing.)

"
6 Steps to Increase Your Affiliate Commissions
Do you want to increase your Affiliate Commissions ...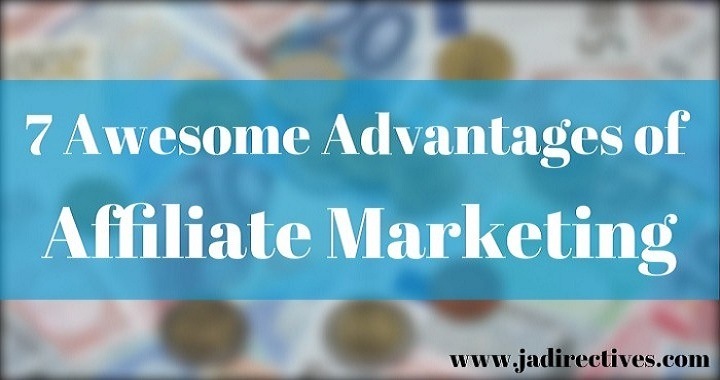 7 Awesome Advantages of Affiliate Marketing
Are you an online business person or blogger? Yet ...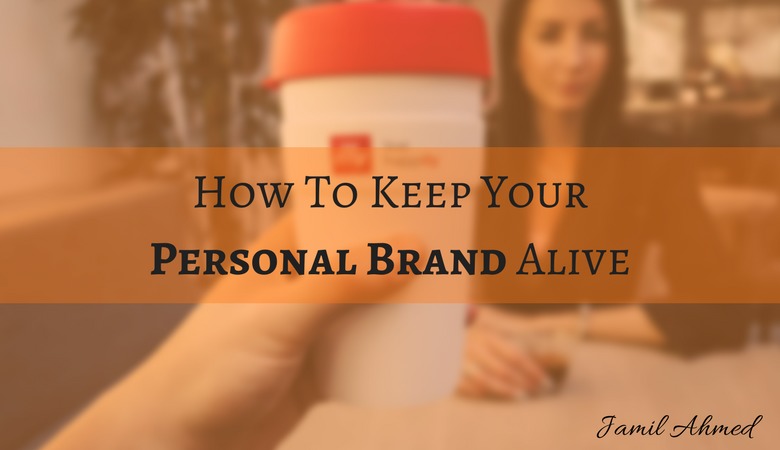 How To Keep Your Personal Brand Alive
Why do we water our plants? It is because we want ...
You have no groups that fit your search